Creative Director of the Chanel Cruise Collection, Karl Lagerfeld premiers 'The Tale of a Fairy' at the Cannes Film Festival
Karl Lagerfeld has just premiered his short film for the Chanel Cruise Collection, 'The Tale of a Fairy'. The film was presented at the Cannes Film Festival just last week, and there is a note-worthy buzz over the eccentric tactics of the Chanel Cruise Collection's Creative Director in regard to film making. The Chanel 2011/2012 Cruise Collection received an extra dose of publicity on Monday 9th, 2011 when screened before an exclusive guest list.
"It is a movie about an ill-advised use of money which begins with violence and ends with feeling" Karl Lagerfeld, May 2011
The Cannes Film Festival exclusive premiered at the exclusive Hôtel du Cap-Eden-Roc at the Cap d'Antibes. "The Tale of a Fairy' is a short film created by Karl Lagerfeld to accompany Chanel's 2011/2012 Cruise Collection. The suggested center of what will be Cannes Film Festival controversy, 'The Tale of a Fairy' ran for just under an hour and a half, leaving nothing to be desired in the dramatic controversy department. Risky cinematic scenes and subjects included a topless Danish model, Freja Beha and the tunnel-visioned plot built upon a key focus of controversy by way of exaggerated fame… Money. Madness. Narcissism.
'The Tale of a Fairy' stars the muse of Karl Lagerfeld, Amanda Harlech. Other roles are portrayed by models Kristen McMenamy, Freja Beha, Bianca Balti, Baptiste Giabiconi, Brad Koening, Jake Davies, Mark Vanderloo, Oriol Elcacho, Karl's bodyguard Sebastien Jondeau, model Seth Kuhlmann and French actress Anna Mouglalis.
The Cannes Film Festival is the world's most prestigious film festival, looming over all others, a privileged moment for celebrating past glories and great expectations. Established in 1946, it takes place each May at Cannes, a town along the French Riviera.

Every year Cannes appears, alluring and forbidding, a haunted palace that knows better than to open wide its doors, become democratic or user-friendly — leave that to the North Americans. The competition choices obey a certain logic: the festival is faithful to those who have triumphed and those who have suffered.

The Marché du Film, where meetings, negotiations and deals take place in parallel to the Festival de Cannes, draws more than 10,000 buyers and sellers from around the world, according to the festival's organizers
The invitations featured the image above, and all guests and invites have remained tightly sealed from the media.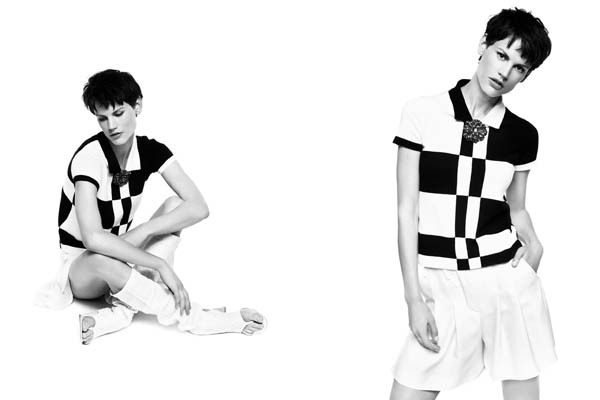 The unique and captivating beauty of Model Saskia de Brauw provided the Press Kit Release of the 2011/2012 Chanel Cruise Collection with a fluid presence of minimalistic, monochromatic strength. In the same emotionally charged, moving manner which (those of you who remember this fashion craze) was utilized in the successful campaign for the unisex CK One Fragrance, the use of crisp displays and clean lines of black and white evokes an unexpected bright and vibrant response in the Press Release photos of the Chanel Cruise Collection 2011/12.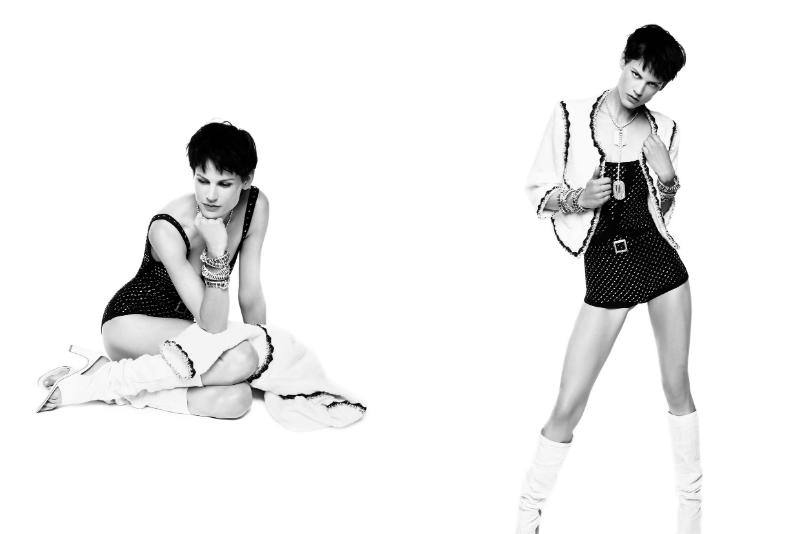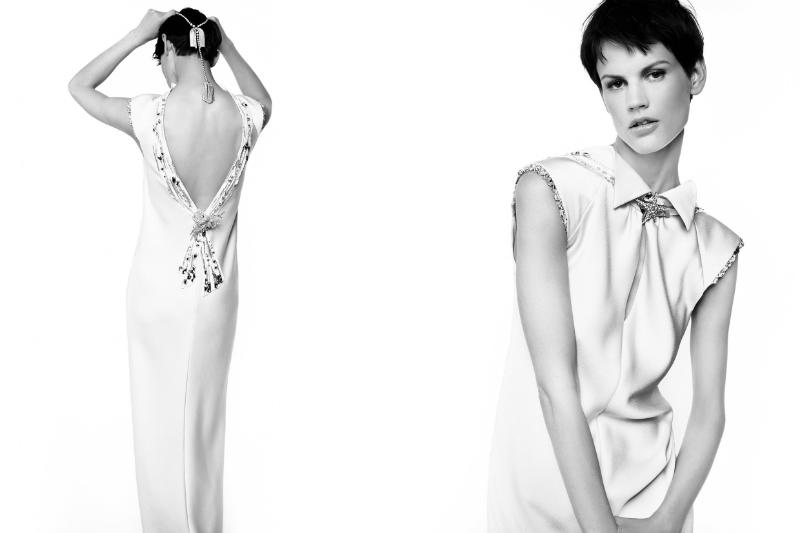 Chanel Cruise Collection 2011/12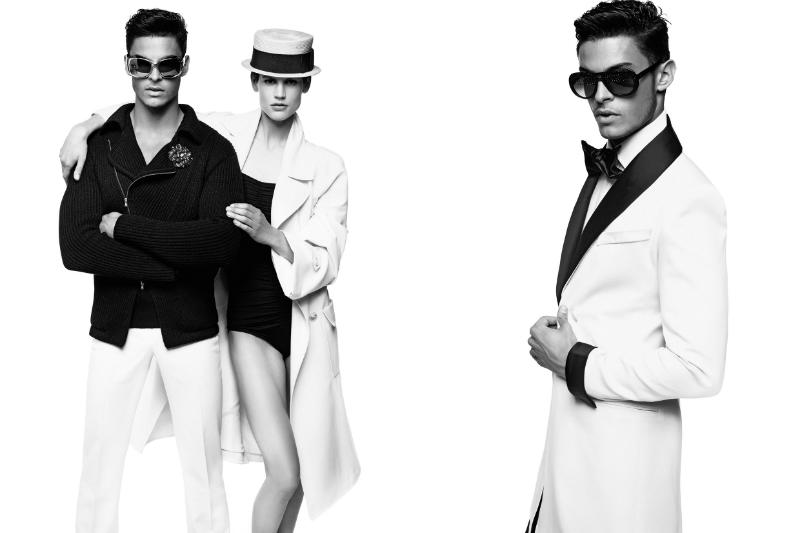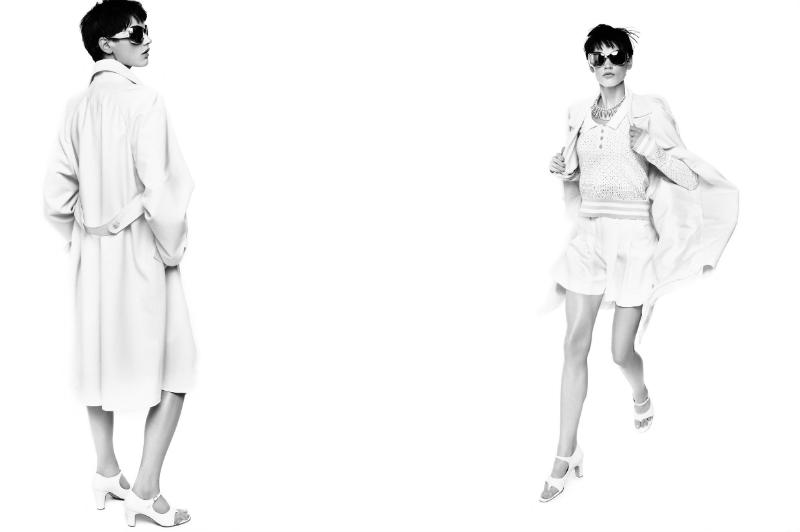 Chanel Cruise Collection 2011/12
"Modeled by Saskia de Brauw and Lagerfeld muse Baptiste Giabiconi, the black and white images showcase the clean lines and relaxed silhouettes shown on the runway."-Joanna at Fashion Gone Rogue

Press Kit:
Cruise 2011/12
Studio 7L, Paris
Photos: Olivier Saillant
The Following is an excerpt taken from a March 2011 Editorial by by MILES SOCHA at WWD, 'Catching Up With Blake Lively' just prior to Fashion Week in Paris:
"I have such a respect for fashion and such an appreciation for it that if there are people like Karl Lagerfeld out there designing, who am I?" she asks. "I want to bow down to them and be a representative for them if they'll have me."

Lively says that her admiration for Lagerfeld is such that she's surprised the photo session for the handbag campaign didn't yield images of her "with my jaw on the floor." At the end of the shoot, she pulled out her cell phone to capture an image of Lagerfeld behind the camera pointed at her.

As easily as she navigates the entertainment and fashion worlds, Lively seems as excited about what other ventures acting might bring her.

"I do plan to open a few restaurants one day. I will be the chef, I will create the menus, I will decorate," she says, rattling off plans to do a brunch place first, then one dishing up Southern cuisine, followed by world food.

Kiera Knightley to Star in Upcoming Chanel Film Directed by Joe Wright
While Blake Lively has big plans for herself and her affiliation with Chanel, Kiera Knightley (who has been working with the top name in Fashion since 2007) isn't falling into her shadows. In fact, Kiera is also moving forward with Chanel, recently wrapping up a kittenish pictorial and starring in an upcoming  three-minute Chanel Film dedicated to the famous fragrance, Coco Mademoiselle.
· Chanel [Official Site]